Home > Welkom bij Studio Uitzicht!
Mijn beroep is geluid, het leukste van alles wat ik gedaan heb in mijn leven. Na als webdesigner en microstock-fotograaf actief te zijn geweest, ben ik in 2006 voor het beroep 'geluid' (nu Sound Design) naar de Filmacademie gestapt.
Omdat ik na het afstuderen ook succesvol als geluidsman en sound designer aan de slag kon, werd mijn persoonlijke website 'per ongeluk' mijn professionele website. Maar ik heb gekozen toch vrij werk te blijven tonen, ook al ontstaat hierdoor het risico dat sommige mensen mij als geluidsman en sound designer niet al te serieus nemen... Ik houd nou eenmaal van afwisseling en ben daarom ook blij dat ik voor zeer gevariëerde projecten gevraagd wordt.
Ik heb mijn studio aan huis, en maak locatie opnames ook uitsluitend met eigen apparatuur. Af en toe registreer ik ook akoestische muziek voor een project.
Geen geluidsstudio zonder muziekinstrumenten natuurlijk... Ook een doodstille airco is een must.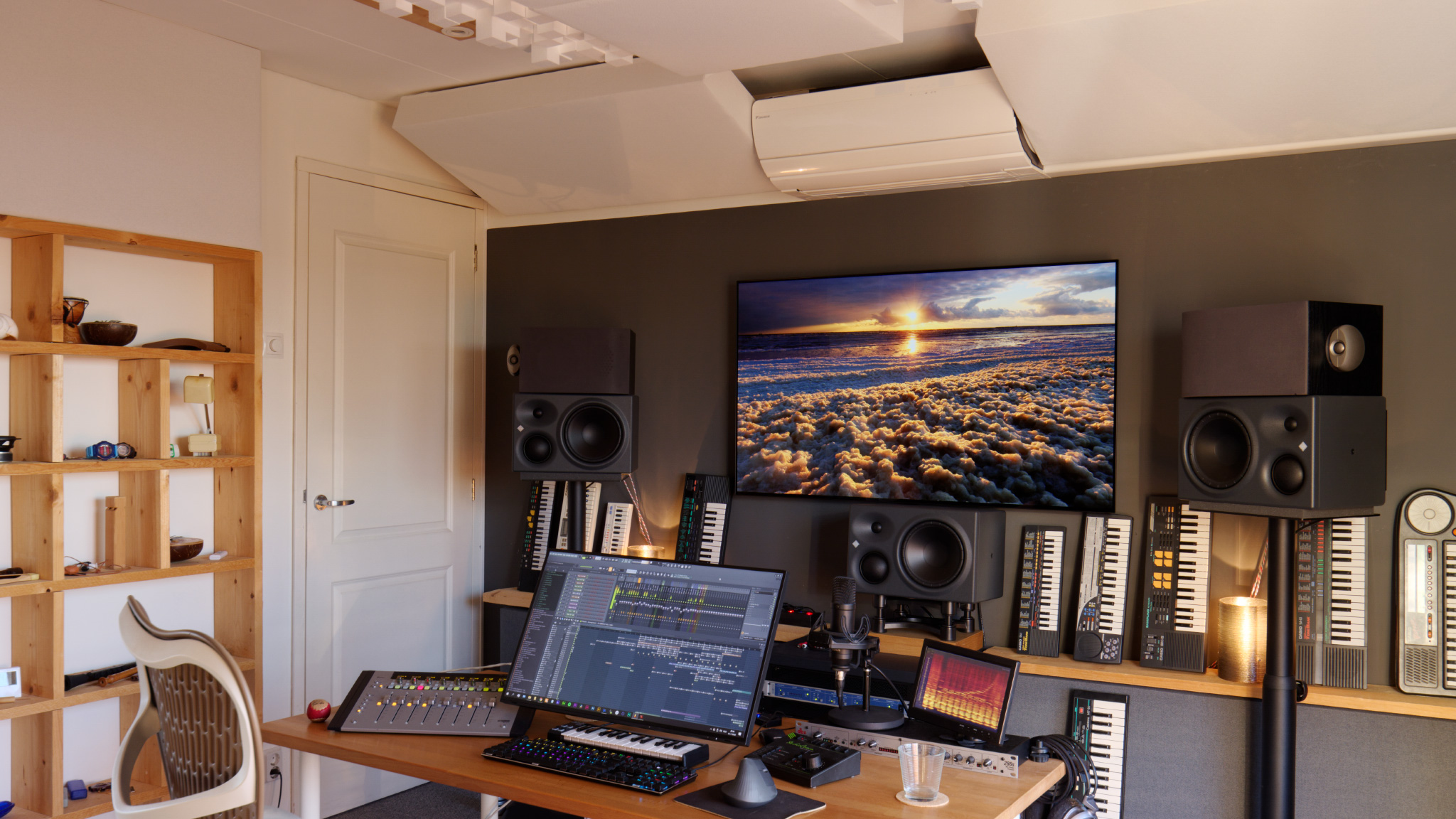 Om het geluid zo perfect mogelijk af te spelen, gaat de output door een losse computer met daarop automatisch opstartende software, die via eerder genomen metingen een bijna perfect vlakke frequentierespons uit alle luidsprekers laat komen vanaf 18Hz...

Ik heb geen grote mixerunit in de studio, omdat het gevolg daarvan is dat je continu aan de zijkant van daarvan aan het werken bent, en dus steeds niet in het midden zit (ik spreek uit ervaring). Ik werk ook bewust met één centraal scherm omdat twee (grote) schermen teveel geluid gaan tegenhouden.

Opname spulletjes..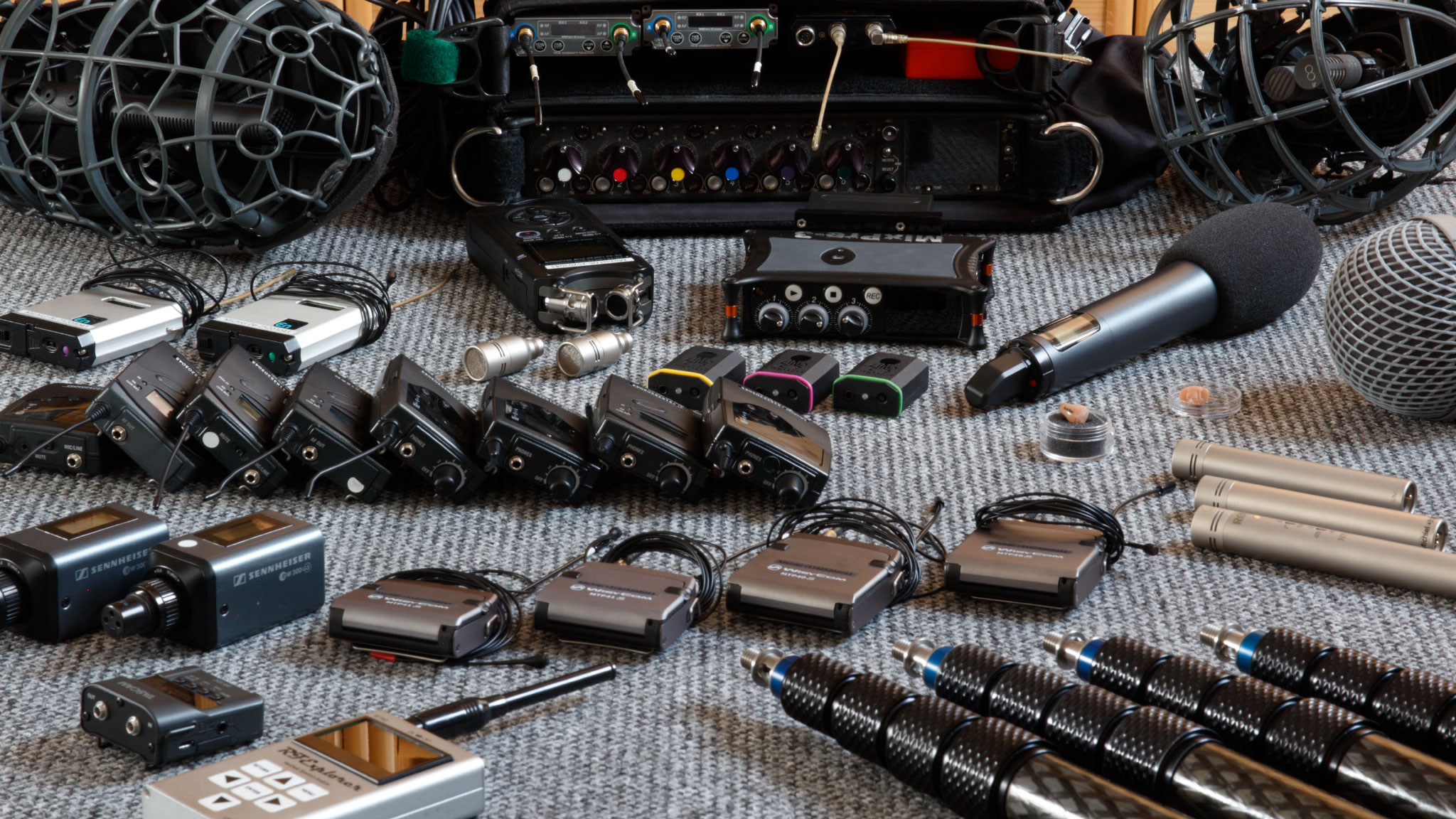 Ik draag vaak een geluidsrecordertje bij me om onverwachte bijzondere geluiden en atmosferen vast te leggen. Soms ga ik er ook op uit met mijn apparatuur om een geluid optimaal vast te leggen. Daarnaast neem ik op filmlocaties natuurlijk ook vaak losse geluiden op tussen opnames door. Mijn geluidsbieb van eigen opnames bevat inmiddels meer dan 7.500 unieke opnames, en dan tel ik 'geluiden voor muziek' nog niet eens mee.

Mijn interesse voor geluid was er al sinds de kinderjaren. Ik heb meer dan 100 casettebandjes volgekletst en probeerde toen al om geluidseffecten te maken. Later begon ik serieus met muziek, per computer. Toch koos ik na een grafische opleiding voor 'Multimedia vormgeving'. Hier werkte je ook multidisciplineel met geluid en beeld; het was de tijd van de CD-roms. Toch beviel het werk daarna als webdesigner niet. Ik was steeds vaker met geluid bezig. En bij making-of's van films had ik voornamelijk interesse in het geluid. Toen viel het kwartje: Geluid is ook een beroep!

Houten diffusers van 30cm diep. Effectief, en het ziet er stiekem ook leuk uit.
Op de ramen zit ND-filter, zodat het licht van buiten niet te fel is, zonder verlies van het uitzicht.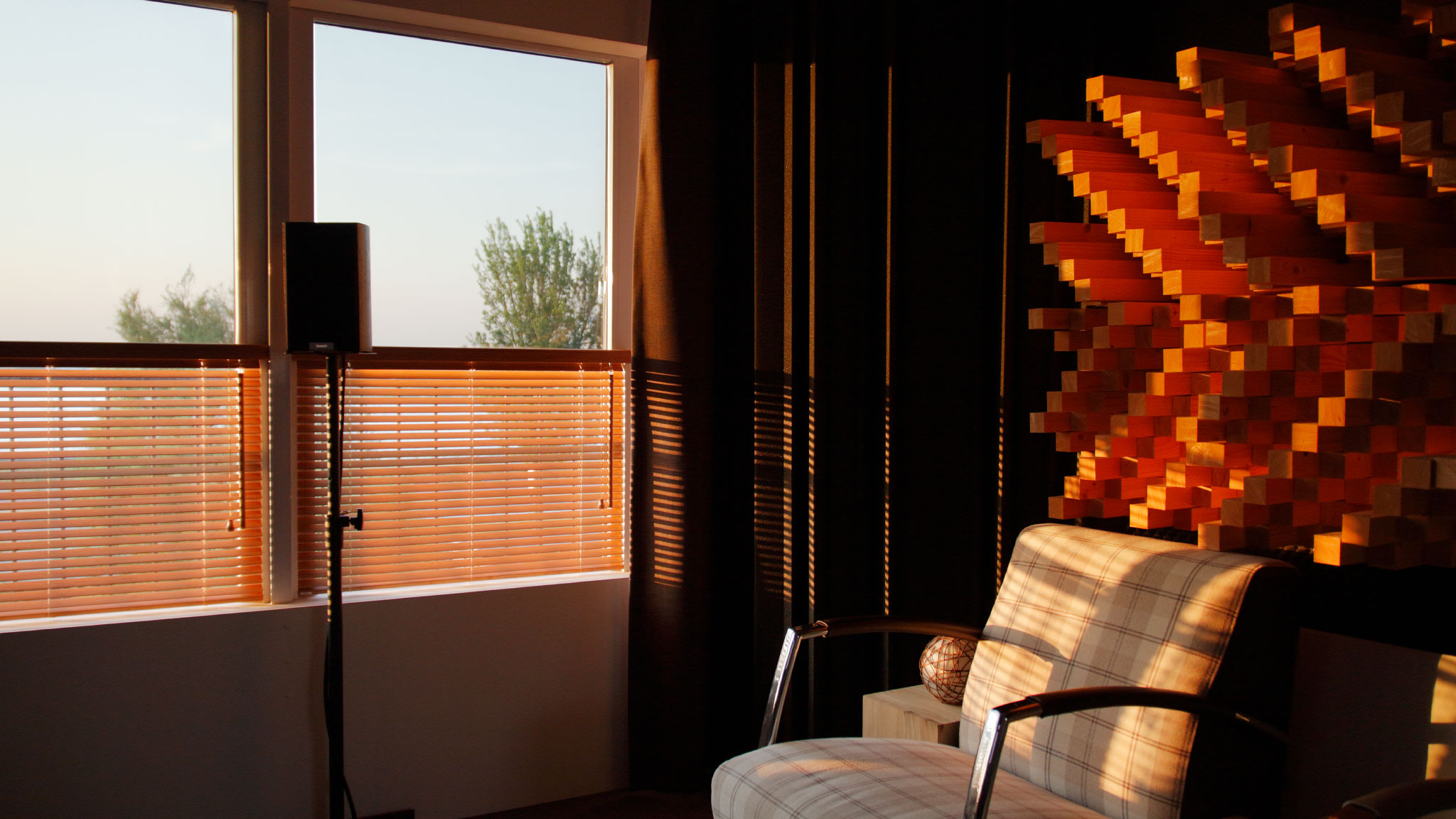 Voor audiobewerking en mixage werk ik met Pro Tools met veel plugins waaronder Waves en Izotope. Mijn bieb beheer ik met Soundly. Muziek maak ik in FL studio. Verder heb ik de complete Adobe Suite. Voor video editing en grading gebruik ik echter Davinci Resolve Studio (Véél betere kleuren dan de walgelijke Adobe "Lumetri" en een stuk intuïtiever). Foto's bewerk ik met PhotoLab (véél betere kleuren dan Adobe raw!).

Over fotografie

Fotograferen deed ik al voordat ik met geluid begon. Landschapsfotografie lijkt vandaag de dag vooral te gaan om het zo extreem mogelijk manipuleren van een beeld, in plaats van een mooi moment zo goed mogelijk vast te leggen. Dat laatste is wat ik doe. Er is niets vervangen of toegevoegd aan de foto's en alles wat je ziet is echt gebeurd.

Home > Welcome to Studio 'View' !
My profession is sound, the most fun thing I've done in my life. After beïng a webdesigner and a microstock photographer I choose for the profession 'sound' by going to the Dutch film school in 2006.
After the study was finished, it turned out I could actually make money with it and my personal website 'accidentally' became my professional site. But I choose to still show other projects as well, although there is a risk some people may not take me seriously as a sound professional because of that... But I like variety so I can praise myself lucky that I get asked for very different projects.
I have my studio at my house, and do location work exclusively with my own equipment. Occasionally I also record accoustic music for projects.
No sound studio is complete without instruments, of course... Also a dead silent airco is a must.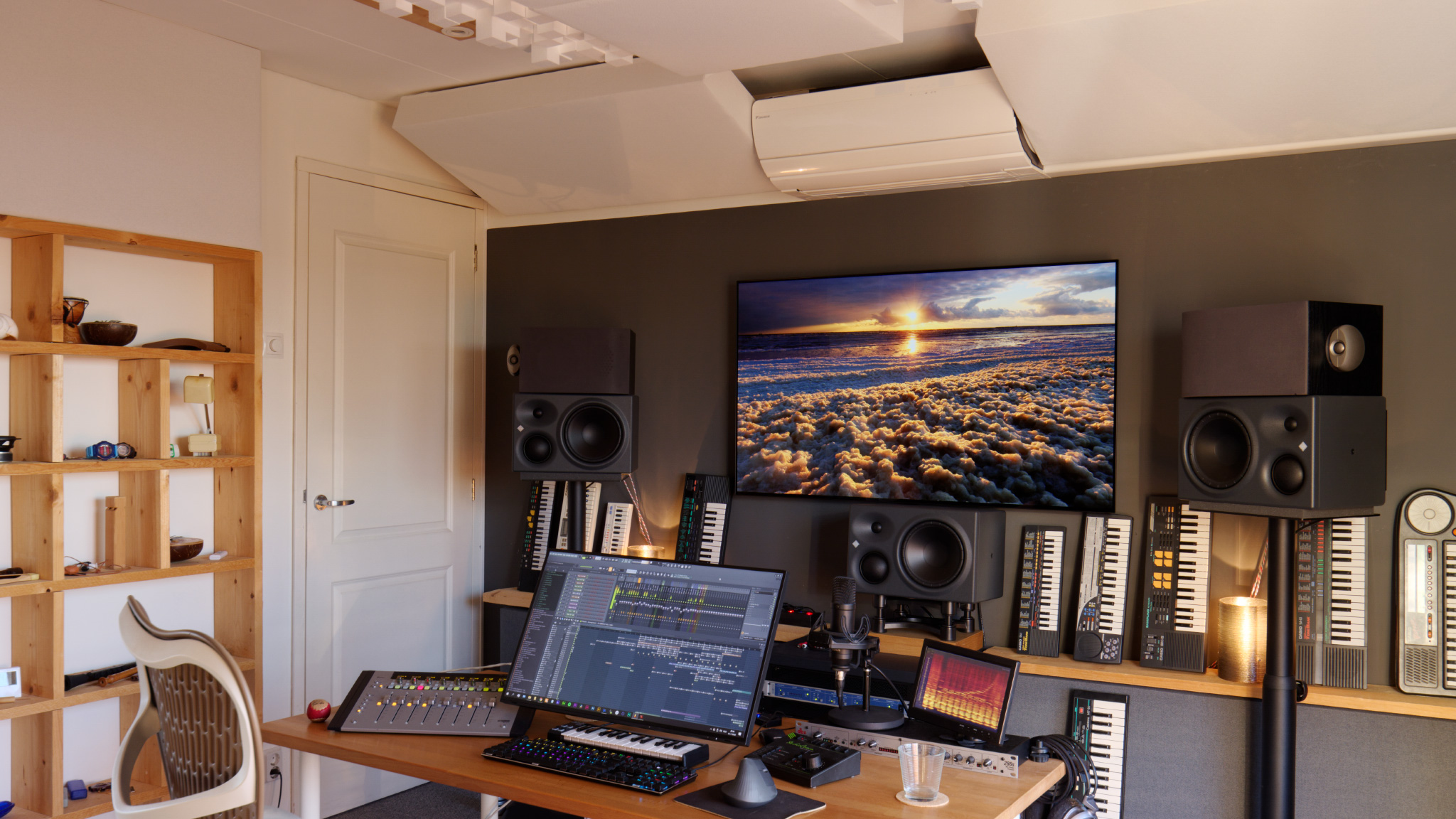 I developed my own 'DSP unit' by using a passively cooled micro PC with automatically starting software, that corrects the room characteristics. The result is a near-perfect flat frequency curve over the whole spectrum from all 5.1 speakers, starting at 18Hz (lower than we can hear).
I do not have a large mixing console in the studio. The result of such a unit is that you are constantly editing off-center, away from the hotspot and compromising ergonomics (I speak from experience). Also I work with a single, centered screen because two screens pose accoustical compromises.
Audio things..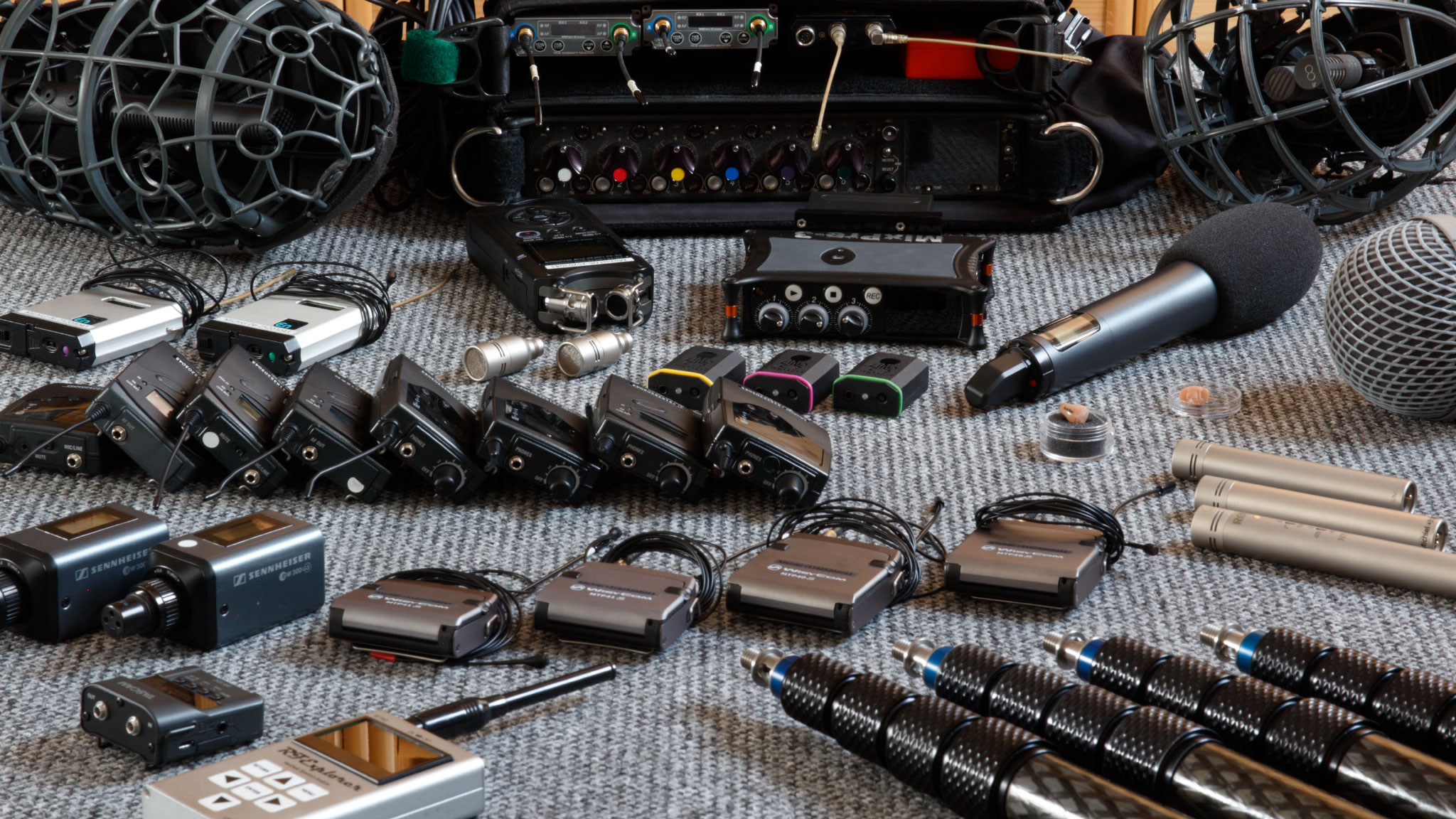 I often have a portable audio recorder with me to record unexpected and interesting sounds and ambiances. Sometimes I also specifically go somewhere to record sound with my equipment. And of course when shooting on location I also record separate sounds when I get the chance. My personal sound library with my own recordings contains over 7.500 unique recordings, not even including 'sounds for music'.
Since my childhood I've always been interested in sound. I've blathered on over 100 cassettes and then already I tried to make sound effects. Later I started seriously with music, via the computer. Still I choose for 'multimedia design' after finishing a graphic design education. Here too you worked with sound and visuals, it was the time of CD-Roms. That quickly shifted to webdesign. But I did not like the work as a webdesigner. I was playing with sound more and more. And watching movie making-of's, I was mainly interested in the sound. Then I finally realized: Sound is also a profession!
Wooden diffusers with a depth of 30cm. Effective, and looks nice too...
The windows have ND-filter on them to dim the daylight, while keeping the view.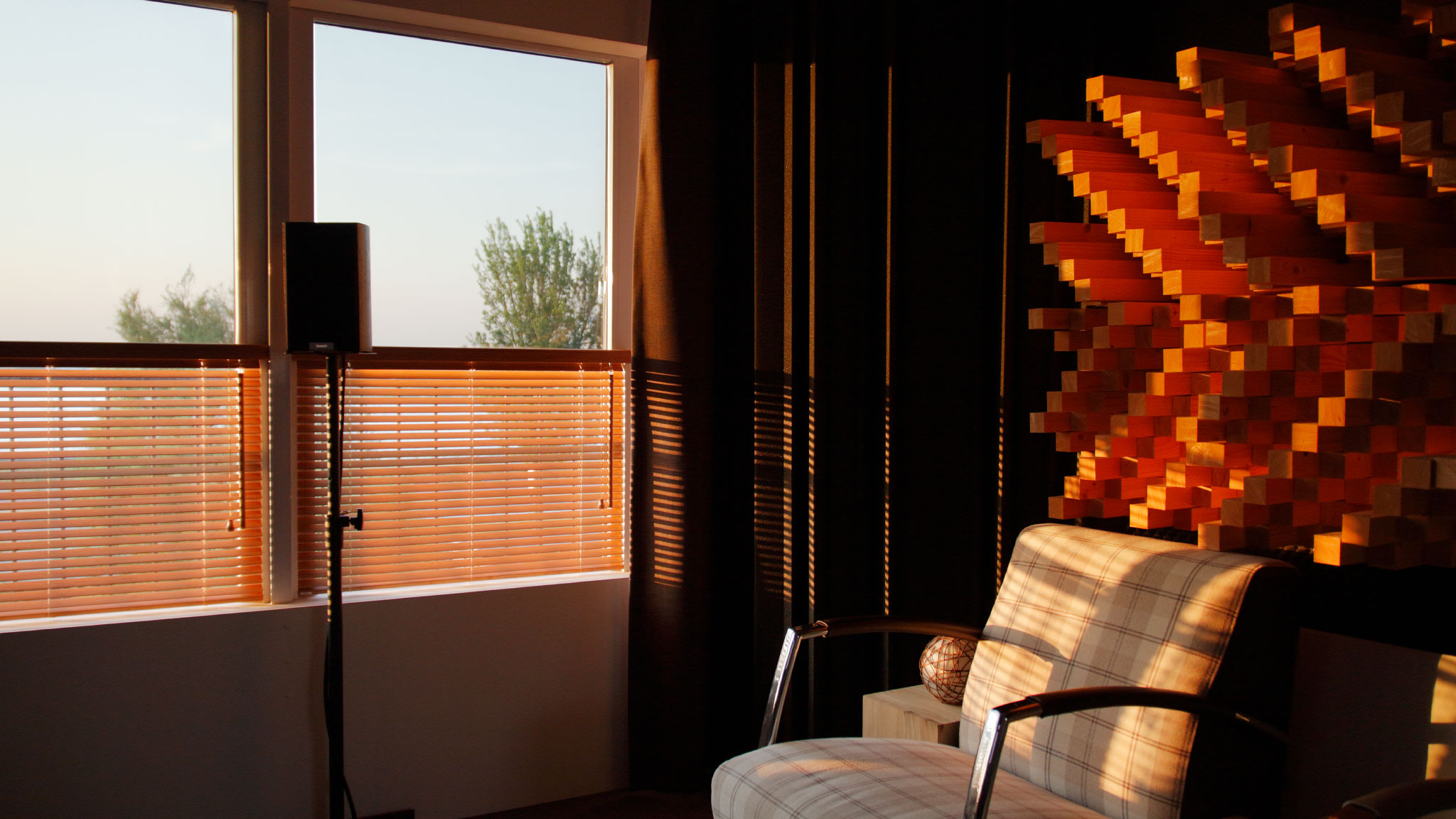 For audio post production I use Pro Tools with many plugins like Izotop RZ and Waves. For music I use FL Studio. My library is searched using Soundly. Though I also own.. Pardon me, rent the full Adobe suite, I do editing in Davinci Resole for it's refresing GUI and superior grading of the extremely ugly color-shifting lumetri form Adobe. Unfortunately I can not recommend Resolve as long as they don't fix the countless AAF export bugs that makes it virtually impossible to export to audio. For Photography I use Photolab over Adobe, again because Adobe's colors are so horrible.
About Photography
I already photographed before I began with sound. Landscape photography these days seems to be about manipulating an image as much as possible rather than capturing a moment as good as possible. The latter is what I do. In capturing a special, often weather related moment in time I find much more satisfaction than capturing 'that famous place' that has been photographed countless times before. Nothing as been added or replaced in my photos and everything you see really happened.